After an exciting night of new champions being crowned, briefcases being claimed and surprise returns, we are now officially on the road to Summerslam!
WWE Raw was live from the American Airlines Center in Dallas, Texas and back in front of the WWE Universe! Hope everyone is ready for a shit load of rematches!
John Cena kicks off RAW!
John Cena kicked off the show and laid down a challenge to Roman Reigns for the Universal Championship at Summerslam. Cena said that Roman Reigns is an asshole…
He also said that Reigns is an overhyped gimmick who isn't as great as he says he is. Cena said that he will see Reigns this Friday at Smackdown and Riddle made his way out to say BRO with Cena for a minute or two.
Riddle & The Viking Raiders vs. Morrison, AJ & Omos
We had some 6-man tag action that involved the only thing we honestly care about . . . drip sticks! Shenanigans led to Riddle and The Viking Raiders picking up the win.
Rematch #1: Jaxson Ryker vs. Elias (Symphony of Destruction Match)
One of the biggest babyfaces in WWE, Jaxson Ryker, is continuing his feud with Elias. You all thought this feud was really going to be over after the strap match?
Ryker got the win after superplexing Elias through two tables at ringside. There is nothing like two men beating each other with cellos, gongs and shit like that!
Rematch #2: Nia Jax & Shayna Baszler vs. Tamina & Natalya
I'm sure you could of guessed that Shayna got pinned again, nothing new happening there.
After the match, Shayna was upset with Reginald and Nia went from hugging Reggie to HEADBUTTING HIM! As the tears ran down my face, the 24/7 jabronis made an appearance and we ended up having Tozowa and Reginald standing in the ring.
HOLY SHIT!
Reggie did a flippidy-floppidy-floop and got the 1-2-3 on Tozawa!
We have a new 24/7 Champion and that man's name is REGINALD!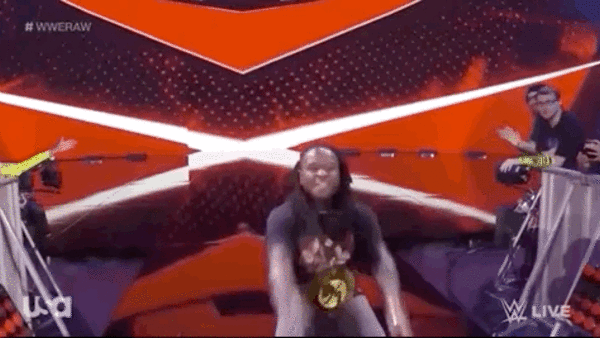 Rematch #3: Sheamus vs. Humberto Carrillo
Not wasting my time with this one. Sheamus won with a Brogue Kick. NEXT!
Keith Lee vs. Bobby Lashley (WWE Championship Match)
The Almighty Hot Bobby made his way out with MVP to issue an open challenge for the WWE Championship. Making his first appearance since January, Keith Lee returned to accept the challenge.
The finish saw Lashley hitting the spear and retaining the WWE Championship. I don't get the reasoning of bringing back Keith Lee this way but…
It gets even better! The rumors were true and Goldberg made his down to the ring. I'm surprised Goldberg didn't pull the "Iverson stepping over Lue" on Keith Lee.
Goldberg laughed in Lashley's face and said that he's next!
DREW MURDERS SHANKY!
Drew beat the living shit out of Shanky with a chair while Jinder and Veer watched on the ramp in fear. This went on for roughly 43 minutes and was awesome!
NXT Champion Karrion Kross vs. Jeff Hardy's Old Theme Song
Jeff Hardy's theme song 'No More Words' defeated NXT Champion Karrion Kross in just under 3 minutes with a little help from the ropes. Never thought I would see the day when a song would defeat another human being, but here we are. I literally have no more words about this.
Rematch #4: Charlotte Flair vs Rhea Ripley (RAW Women's Championship Match)
Earlier in the night, Pearce and Deville made this rematch official for the main event. After a nice back and forth between the two, Charlotte made her way outside the ring. She grabbed her title and starting making her way up the ramp. Rhea tried to stop her but Charlotte hit her with the title, giving Rhea the DQ victory. Charlotte celebrated in the ring but was attacked and thrown outside by Rhea. Rhea tossed Charlotte into the ring post and then back into the ring.
Cue Nikki ASH with her Money In The Bank briefcase. She cashes in and goes to the tope rope to hit Charlotte with a crossbody for the 1-2-3!
Your new RAW Women's Champion, Nikki Ash!
Hopefully we can get back to some beat the clock challenges and normalcy soon enough!
At least we got one cool title change on the show!
. . . jaBROnis out!