Brock Lesnar and John Cena battled for the WWE World Heavyweight Championship at SummerSlam 2014. Well, battled would not be the best word to describe the match, as Brock Lesnar delivered sixteen suplexes to John Cena before finally ending the squash match with an F5 for the three count.
In a new interview with Sam Roberts, John would explain how the match was put together.

EVENTS
May 26 London, ONIMPACT Under Siege 2023May 27 Jeddah, Saudi ArabiaWWE Night Of Champions 2023May 28 Las Vegas, NVAEW Double Or Nothing 2023May 28 Lowell, MANXT Battleground 2023Jun 3 Winston-Salem, NCNWA Crockett Cup 2023 – Night One
EXCLUSIVES
Will Ospreay Talks Moves He's Afraid To Do, Reflects On Advice Chris Jericho Gave Him In 2018
SKYLAR RUSSELL & WILLIAM THATCH & SEAN ROSS SAPP MAY 24, 2023 8:00AM
Mark Long Reveals Advice He's Gotten From Paul Heyman
JEREMY LAMBERT MAY 23, 2023 12:00PM
Isaiah Broner Says Injury Was Supposed To Keep Him Sidelined Until December, Returned In Two Months
JEREMY LAMBERT & JOEL PEARL MAY 23, 2023 8:00AM
Kevin Ku: DEADLOCK Pro Presentation And Style Is Very Much Golden Era Ring Of Honor
JEREMY LAMBERT & STEPHEN JENSEN MAY 22, 2023 12:00PM
Will Ospreay: Swearing In Promos Isn't Bad, Have You Ever Seen Quentin Tarantino Films?
SKYLAR RUSSELL & WILLIAM THATCH & SEAN ROSS SAPP MAY 22, 2023 8:00AM
SKYLAR RUSSELL & JEREMY LAMBERT MAY 24, 2023 9:00AM
John Cena discusses his 2014 SummerSlam match against Brock Lesnar.
Throughout his lengthy career in wrestling, John Cena has been involved in some of the biggest matches in the history of the sport. On most occasions, Cena would come out on top of those matches, thus cementing his position at the top of WWE.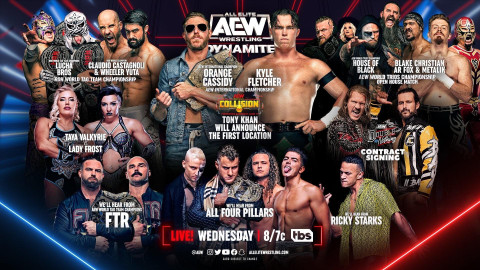 RELATED ARTICLEAEW Dynamite (5/24/23) Preview: AEW Hits Las Vegas For Final Dynamite Before AEW Double Or Nothing
At the SummerSlam pay-per-view in 2014, Cena ran into the buzzsaw that was known as Brock Lesnar. Months before essentially squashing Cena, Lesnar had ended The Undertaker's undefeated streak at WrestleMania.
In a new interview with Sam Roberts, Cena went into detail about how the bout was put together and the thought that went behind it.
"Brock was taken from OVW and pushed into champion immediately. I was given an opportunity at the beginning and then became an enhancement talent. Even when I re-identified myself as a rapper, I was an enhancement talent. I had a two-year understudy of, 'this is your job. This is the story.' Arn Anderson (would say), 'It's just not your night kid. The story is for this.' I have great equity and my piece is to make this interesting. Brock is one of the most giving performers when it's his time. He will make anyone look great. I remember Brock being like, 'I had dinner with Steve Austin last night and we came up with this idea where I start suplexing you and don't stop and then beat you.' 'Yeah.' We both collectively agreed that you just beat the streak. We ruin that if we have a 50/50 match. It's not my night, kid. Arn Anderson, in the back of my head, I hope he understands the influence he had on my wisdom with this. It's not my night. How do you showcase the enormity of that win? How do we not waste the Undertaker's streak. It's not just Brock winning a match, it's all those matches he had to lead up to losing. If I go out and have a 50/50 match where he just sneaks over, we wasted all that. If you take that unbelievable feat with another unbelievable feat, now we have passed the energy, and that is how you make someone. That someone can make others and that's how the business works, you have to be able to work together. You can survive and thrive by also being generous and being giving and working with others."

John Cena
Brock Lesnar is currently scheduled to take on Cody Rhodes at WWE Night Of Champions this weekend.
Cena's last WWE appearance came at WrestleMania 39 when he lost to Austin Theory with the United States Championship on the line.
H/T to Fightful
Follow Corey at @CoreyBrennanBS on Twitter
If you enjoy Bodyslam's content, you can help donate to the site here. You can also visit our PWTees store and buy Bodyslam official merchandise here.
You can listen to all of Bodyslam's podcasts by following us on Spotify and subscribing to our YouTube Channel, or any of your favorite podcast platforms.ⓘⓘⓘⓘⓘⓘⓘⓘⓘⓘ