Every year the fine people at Pro Wrestling Illustrated put together a list rewarding the top female Wrestlers in the world. I thought it would be fun to evaluate every woman in the top 10 and discuss If agree or disagree.
Reminder that according to PWI the list is organized from July 2019 to July of 2020, so we will be judging the women from that time frame. I will be evaluating the women based on how they were booked, accomplishments
and quality of matches.
Bayley – No argument from me here. Bayley has been the best female performer in the world and I don't think it's even close. Holding the Smackdown womens championship for an entire year, having one of the most memorable heel turns in recent WWE history and being booked as the biggest female in the entire company. Bayley has undoubtly been the most entertaining character on WWE television, and at some points the only reason to watch WWE television. Bayley has brought the best out of people like Carmella, Nikki Cross, Asuka, Sasha Banks and Shayna Baszler. Bayley has a rare ability in wrestling to make anyone assiocated with her look like a bigger star because of it. Bayley is number one and it's not even arguable.
Becky Lynch – If this list was strictly for 2020 then Becky Lynch would not be number two, however since this list also has 2019 in it's criteria Becky Lynch is number two. Becky Lynch became the first woman to be considered as the face of the company. Becky's fueds with Sasha Banks, Asuka and Shayna Baszler all made for excellent and compelling television. The only reason Becky is not number one is because she has been inactive for most of 2020.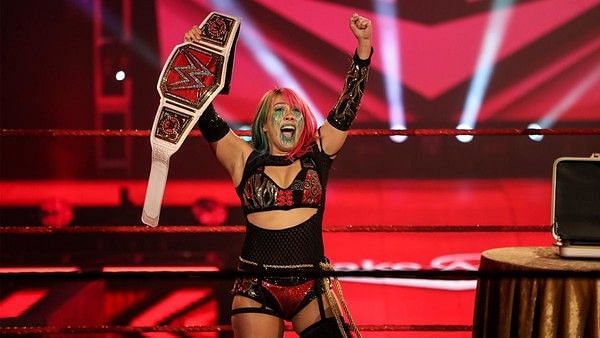 Asuka – Asuka in my opinion should be number 2. From not being showcased all that often, to being a staple in the women's division, Asuka has been the second best female peformer in the world. After turning heel in 2019 with Kairi Sane, Asuka got a renewed focus in the women's division and has delivered ever since. Asuka helped restore value to the women's tag team titles, and has had great fueds with the likes of Becky Lynch, Bayley and Sasha Banks. Asuka during the pandemic has been one of the most reliable women on the WWE roster, and she has been rewarded for her efforts with the Raw Women's Championship.
Charlotte Flair – From holding the smackdown women's championship for 5 days, from winning the 2020 women's royal rumble, to winning the NXT women's championship Charlotte defiently added to her already impressive resume, to earn the number 4 spot.
Sasha Banks – Sasha Banks should be ranked a lot higher on this list. A lot of Sasha's success came from being parterned with Bayley. So if Bayley is number one Sasha should be number two, because a lot of their success came together as a part of a team. Sasha would turn heel, upon her return in 2019 and has been competing on a whole new level ever since. Sasha's fueds with Becky, Asuka, and Shayna Baszler have made for great TV. Sasha along with Bayley have been consitently the most entertaining act on WWE television.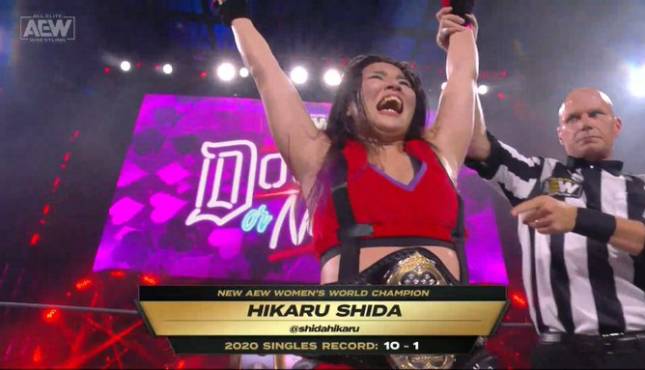 Hikaru Shida – Shida has not benefitted from competing in the AEW Women's division. As the AEW women's division has not been a priority, Shida's 2019 – 2020 has suffered because of it. I honestly believe Shida should be ranked near the bottom of the top 10. REMINDER – This has nothing to do with her talents.
Tessa Blanchard – The former Impact world champion comes in at number 7 and I don't get this ranking. I understand Impact is not as big as it once was but Tessa Blanchard was a WORLD CHAMPION. Not just the women's champion, a World Champion. Tessa Blanchard held and defended the same championship held by the likes of Aj Styles, Kurt Angle, Jeff Hardy, Sting and etc. Tessa should be no lower than number 3. Charlotte and Tessa should've been swaped.
Riho – Number 8 on this list is Rhio. Rhio being ranked number 8 is the perfect ranking. A woman who had a great 2019 as she as the inagural AEW Women's champion and fueded with Nyla Rose, Brit Baker and Kris statlander Rhio is ranking is just fine. Had there not been a travel ban maybe Rhio would be ranked a lot higher.
Io Shirai – Io should be ranked a lot higher than number nine, not only from a pure match quality standpoint, but a character standpoint as well. Io's matches with Candice Larae, Shayna Baszler, Rhea Ripley, Tegan Nox and others are some of the best womens matches one could see. The evolution of her heel character has been amazing. Io shari would become so popular that WWE eveutanlly had no choice but to turn her babyface. Io is a top 5 female peformer in the world and defiently should've been no lower than number 5.
Mayu Iwatani – I can not comment on Mayu Iwatani being number 10 simply because I am not familar with her work. Based on everything I have heard about her work over the past year, Mayu's ranking is reasonable.
This concludes my thoughts on the top 10 of the PWI women's list. Please let me know if you agree with my opinions about this list.
Check out our official store at PRO WRESTLING TEES, show us your support and buy a shirt. You can visit our store by clicking here.
Make sure to follow us on Twitter @BodySlamNet and on Instagram @BodySlamDotNet
Also check us out on Facebook and give us a like and share by clicking HERE.