There's big men in wrestling. There's agile men in wrestling. There's lightning fast wrestlers who can race to, in and around the ring. Then, in a unique Venn diagram spot where all those criteria overlap, there's a breed of heavy hitting but deceptively quick for their size superstars who combine power, agility and speed. The latest man to step out of this sweet spot is 35-year-old Keith Lee.
In the 15 years since starting his training back in 2005, Lee has already made history. More than six months before debuting on the main roster, he clashed with Roman Reigns and got a clean pin over Seth Rollins at the 2019 Survivor Series as part of Team NXT – as good a main event endorsement you can get. Shortly afterwards, he fought both WWE Champ Brock Lesnar and Braun Stroman (at the same time, no less) in the following year's Royal Rumble – big league endorsement No.2. He was the first man to hold both the NXT North American and NXT Championship at the same time, and became only the second African American to hold the NXT title – a win which he dedicated to his recently deceased trainer, Killer Tim Brooks, who sadly died in June 2020 at the age of 72.
After vacating the North American belt and losing the NXT Championship a little quicker than most observers expected, Lee made his debut on Raw, finding himself straight in the middle of a burgeoning feud with Randy Orton – one which is scheduled to get serious at next weekend's Payback event. He's even taken to social media to assuage the fears of fans who responded negatively to his Raw debut by critiquing, of all things, the change in his theme music and ring attire. Lee's response?
He's the life coach the internet wrestling community never knew we needed, but obviously really, really do. All things considered, for good and bad, it's been quite the 12 months for Keith Lee.
So as he stands on the very starting blocks of his main roster run, what are the chances of Lee going on to carve out an even bigger space for himself in the wrestling hall of fame? Well, to paraphrase the man himself – they're limitless. Here's why.
Standing on the shoulder of giants
Agile big men in wrestling are nothing new. Mat historians will cite the likes of The Mormon Giant Don Leo Jonathan, a 6ft 6, 340lb star of the 50s, 60s and 70s, who would regularly leapfrog over his opponents, land perfect dropkicks and even hit flying headscissors, all while packing one heck of a punch. Such was his skillset, Jonathan got placed in a series of headliner matches with Andre The Giant – quite the spectacle when both men were in their prime.
Jump forward a few years and the McMahon inspired era of super heavyweights brought us the likes of Bam Bam Bigelow, Big Boss Man, One Man Gang and Big Van Vader. And yes, three of those big men did have "big" in their names. Hey, no one said wrestling was subtle.
The trend continued into the Attitude Era, where the likes of Umaga would land textbook frog splashes, diving headbutts and even moonsaults when tipping the scales at 350lbs.
So there's a clear history of guys like Lee doing things that men of their size shouldn't physically be able to do. No matter what you say, every move, whether it's top rope plancha, a cannonball or superkick is more literally and figuratively impactful if there's a 340lb+ body delivering it. This is one of the reasons why Lee is in such a strong position right now. While there have been plenty of other big men who have paved the way for Lee, there's no one else on the main roster quite like him right now. There's a spectacle to what he can do in the ring. And he's barely got started.
The Moveset
Take your pick on this one. If his opponent is outside the ring, Lee can land a tope con hilo over the top rope with next to no run up. Ditto a corkscrew plancha. From the turnbuckles, he can land a pinpoint accurate splash or moonsault that would make Bam Bam Bigelow and Van Vader proud. If he's on the apron and his opponent is inside the ring, he can launch himself over the ropes and land a cross body. That's just scratching the surface and not mentioning the stash of power moves he's got in his arsenal. His one handed spinebuster is like an angrier version of the Big Boss Man's Sidewalk Slam. His withering double chop will peak decibel meters as easily as those from NXT UK Champ Walter, while his Big Bang Catastrophe finisher – a Attitude Adjustment set-up fireman's carry into a powerslam – somehow combines the fluidity of an Arn Anderson spinebuster, the impact of a Goldberg Jackhammer and the brutality of a particularly spiteful Jim Neidhart slam. This guy's good.
What makes these moves all the better is the seemingly effortless nature to them. We have the fact that Lee is doing things a man of his size shouldn't be able to do. Now add to that the ability to make those things look slick, smooth and polished and you have highlight reel worthy moments all over the place. Take size out of the equation and what Lee does remains impressive, period. Throw in his size to the mix, and we're talking something extra special here.
He's paid his dues
It's easy to forget that, if we're going to get picky here, Lee's debut on Raw didn't actually come on Monday August 24, 2020 at all. Rather, a rookie Lee first showed up on the WWE's flagship show as a security guard a whole 11 years earlier.
Lee sent fans searching through the WWE Network archives when he announced on the Cory Graves 'After The Bell' podcast that he actually had a cameo appearance as a security guard on Raw back in March 2009.
During his appearance, Lee explained he was: "thrown into a barricade by one Mr. Triple H, and also got poked in the eye by Shane McMahon and punched in the face by Vince." Well, it's one way to meet the boss. Lee was picked for the spot after a tryout for the WWE a year before. Ironically, Lee was tasked with coming in between Shane, Vince and HHH to prevent them from reaching Legacy – a stable consisting of Cody Rhodes, Ted DiBiase Jnr and, of course, the man who Lee is due to clash with at Payback: Randy Orton.
Want to see it? Of course you do…
While the on-screen tryout earned Lee a warm response backstage, his time in WWE developmental proper was still years away. Lee would go on to cut his teeth in Ring of Honor between 2015 and 2017 as one half of the Pretty Boy Killers tag team with Shane Taylor. In EVOLVE, Lee would win his first title – the now defunct WWN Championship – from Matt Riddle at EVOLVE 93, dropping the belt to Austin Theory at EVOLVE 103. Pulling double duty, Lee would simultaneously compete in Pro Wrestling Guerrilla, capturing the promotion's World title from Lance Taylor in March 2018 in a short reign that ended at the hands of Walter a month later. After dropping both indie titles, his eventful run in NXT would begin, ultimately leading to the recent confrontation with Randy Orton. Straight into a main event feud, eh Mr. Lee? Don't mind if you do.
He Can Talk The Talk
Not unlike Big E Langston (whom I wrote about here), it's easy to imagine Keith Lee doing the mainstream media rounds, a major WWE title over his shoulder, charming the hosts of countless breakfast shows, late night talk shows and all broadcasts in between.
He can be a disarmingly smooth and charming talker, could happily challenge the meathead, roid-raging stereotype that many in the mainstream still hold true when it comes to pro wrestlers. He could truly act as a fantastic representative of the WWE. And as for why Lee could stand out amongst his peers as a recognisable face that mainstream producers would want on their show, well…

He's so damn meme-able
OK, I'll admit I feel a little dirty including this as a thing, but in the age of social media, sharable content, gifs and memes, Lee has provided some genuinely memorable moments during his NXT run for all those content creators out there.
Whether it's him launching Adam Cole clean out of the frame like he was just hit by a speeding truck, looming up from behind Finn Balor like a Universal Horror monster or just nodding at a head-shaking Dominik Dijakovic in a loop that never ends, Lee's one of the most gif-able, meme-able stars on the WWE roster.
I mean, look at this: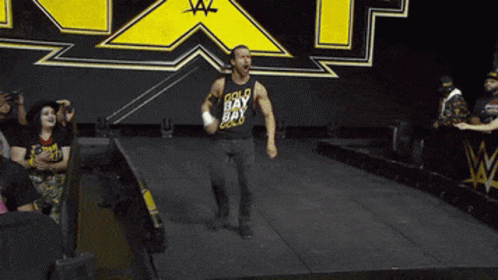 And this: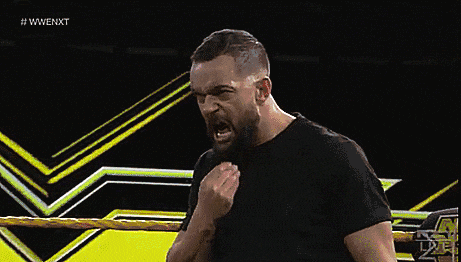 Nuff said.
The Main Event Looms
As a statement of intent, getting into a feud with Randy Orton on (ignoring your brief stint as a security guard) your first night on Raw is no bad position to be in. By facing off against arguably the most unapologetically heelish of all WWE heels, Keith Lee is being squarely positioned as a fan favourite babyface. The contrast in size of the two men will really allow Lee to showcase his power moves, the depths of depravity that Orton will inevitably plunge will garner fan support for the new kid on the block, and the resulting match should be the spark that leads to a longer running and engaging feud that, win or lose, should enhance Lee's position in the company.
His history with the likes of Seth Rollins (pinning him at Survivor Series), Roman Reigns (pushing him to the limit at Survivor Series), Brock Lesnar (stopping his elimination streak at the Royal Rumble… for a bit) and Braun Stroman (tumbling out of the ring and being eliminated from the Rumble with him) means there's plenty of fledgling feuds that could spark back up once Orton is squished. Any of those storylines could happily write themselves. Or, ya know, I could write them.
When the Undisputed Era make the jump over to the main roster, then there's plenty of shared history between Lee and UE too. Adam Cole must still be sore over that gif-able shoulderblock, after all.
So all things considered, limitless is the right word for Keith Lee right now. He can easily become the next big man who becomes, and I use this phrase with full knowledge of when and for who it was last used, the next big thing.
Let's face it: something as minor as a change in entrance music won't derail that. Whether it's in the song or not, we're still all going to bask in his glory…