MLW Fusion Recap Episode 19: Lucha Bros vs. ACH & Rich Swann
Previously on MLW Fusion: The Hart Foundation beat ACH and Rich Swann, Tom Lawlor fought Studd Stable's Mike Parrow inside an MMA gym and Lawlor's MMA coach Seth Petruzelli was attacked and Low Ki defended his World Championship against John Hennigan.
Cold Open
We see the Dojo match where Petruzelli was beaten by The Studd Stable. Then we get a cell phone promo by Tom Lawlor about how he will seek retribution.
The Dirty Blondes vs. Team Filthy
Leo Bryan and Michael Patrick make up the Dirty Blondes while Simon Gotch and Fred Yehi are the competitors on Team Filthy.
Fred Yehi starts off the match against Michael Patrick. Yehi is known as the man with 1,000 counters and that is exactly how he is able to gain control of the match. Yehi and Gotch are using their speed to stay ahead of The Dirty Blondes in this match. Yehi is the faster one on his team and it shows. Once Gotch is tagged in, that's when the Dirty Blondes were able to capitalize.
This seems to be the last episode of the television taping, because this is the most dead the crowd has been for a couple episodes. After a quick match with little story Team Filthy picks up the victory. Tom Lawlor was able to use a chair on the Blondes and tossed the chair to Parrow ala Eddie Guerrero. It was a nice little finish.
War Games hype by Tommy Dreamer. Tommy runs through his entire life, from age nine to main eventing ECW to tagging with Dusty to War Games. All those moments happened or will happen at the Fort Lauderdale War Memorial Arena. Tommy says he has gone through everything in wrestling, so there is nothing that can happen to him in this match that he won't be ready for.
Ricky Martinez w/ Salina De La Renta vs. Enhancement Talent
Tony Shiavone tells us that Ricky Martinez is the newest acquisition by Salina De La Renta. Ricky is wrestling some dude that doesn't get a chyron or acknowledgment from the announce team. It was the epitome of a squash match.
A recap of last weeks World Championship match with dramatic music attached to it for effect. Low Ki then has a promo that he cut last week. I just can't take this man seriously. His voice, his delivery and vocabulary. He is just THE MOST ANIME wrestler of all time. He reminds me of a street toddler throwing tantrums. I don't feel authenticity, I feel low rent acting.
On the other hand Sami Callihan cuts a promo and sells everything so well. Even with his 'thumbs up/thumbs down' catch phrase.
Abyss cuts a promo about how he is making his debut on MLW. All episode I've been thinking about how much Impact Wrestling shares a spirit with MLW. It's not just how much of the main talent appears in both companies. It's also how Pentagon wrestles in Mexican Death Matches, how Sami is unhinged and now how Abyss is in MLW. It's like they are the same company but Impact is the Canadian optics of the company and MLW is the American version. 
Tom Lawlor cuts a promo about how he wants Jake Hager next week, he wants to take out the Stud Stable one by one. 
Salina and Low Ki get another promo segment. It's revealed that Salina is being sued by Rey Fenix. Then Low-Ki cuts his anime ass promo about how he is going to be champion for a long time and defend against competitors across the world. 
MLW World Tag Team Championship
Rich Swann and ACH vs. Lucha Bros. (c)
I at first wanted to complain about how ACH and Swann lost last week and how they are now number one contenders. That was complaint was quelled when we are told that this match was signed a couple weeks ago.
I can't be mad when this happens though.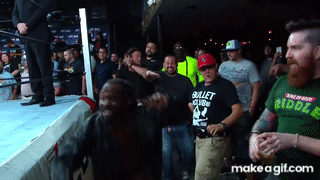 This guy is my spirit animal. Bullet Club guy is how I dance at all functions where there is dancing. I watched this so much and it will not get old.
Pentagon cuts a promo before the match and ACH and Swann attack the Lucha Bros. ACH then grabs the mic and says "I'm the best wrestler in the world." The action is fast paced and Lucha Bros easily take control because ACH and Swann were smiling and joking for most of the beginning of the match.
Lucha Bros. are taking Swann apart and ACH is over there cutting jokes on the referee. It gives the match a very weird feel. Pentagon is strutting in the middle of the ring after a few attacks. It's a weird match. It feels more like a match than a spectacle or a fight. No denying Pentagon can bend the crowd to his will and Fenix can wow them with his moves. It just seems like there is little to no physical story in this match. Just fun spots, sequences and banter.
The action is more fast paced than most matches but the crowd seems to be dead tired. People are interested, just no one seems that energized. The wrestlers are doing a great job with the moves and entertainment though, don't get me wrong. There just isn't much to be invested in.
There is a lot going on. Commentary keeps losing track of the legal man. ACH and Swann have gotten more serious and then we just get like a sequence of seven or eight huge spots that ends in a near fall and standing ovation.
All four men stand up and have a chop battle. It's weird because everyone chops everyone in a circle and ACH like leads the battle. He points at the next wrestler who should get chopped and then just stands and takes Pentagon's chops. We get double punches, double cutters and double big boots. That sequence gets a "Holy Shit" chant, it was a very indie spot but it was done well. I think the story of this match is that everyone in the match takes everyone else lightly but at the same time they are all equal in skill. That leads to this Teddy Hart style of match where it's not a super fast paced style spot fest but it is still a spot fest.
Lucha Bros. win with their package piledriver/ top rope double stomp combo to retain their titles.
Make sure to follow us on Twitter @BodySlamDotNet and on Instagram @BodySlamDotNet
Also check us out on Facebook and give us a like and share by clicking HERE.